Contact
PENTELI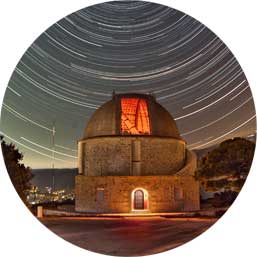 NATIONAL OBSERVATORY OF ATHENS
INSTITUTE FOR ASTRONOMY, ASTROPHYSICS, SPACE APPLICATIONS AND REMOTE SENSING (IAASARS)
The building of IAASARS is located on the grounds of the National Observatory of Athens in Penteli, about 19 km northeast of the historical building of the Observatory at the center of Athens. In the following map we indicate the Institute building as well as the location of the Visitor Center.
Vas. Paylou & I. Metaxa, GR-15 236 Penteli, Greece
Phone No. +30 2103490150, Fax.
as_sec@noa.gr
Access
Access